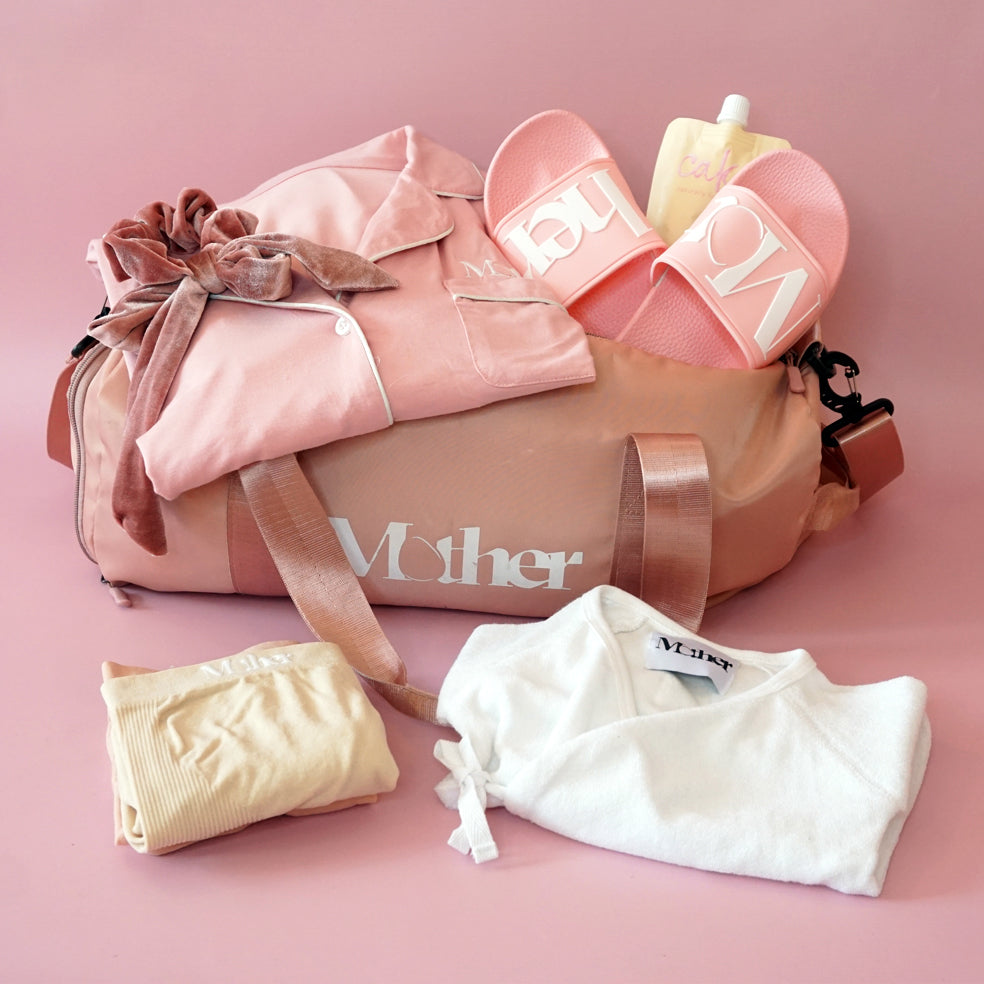 Say hello to our pre-packed hospital/ birth bag packed full for that essential part of your motherhood journey. It has all the essential things a mum will need whether you are staying one day or a few hours in hospital.
Perfect for first time mums who just want one less thing to stress about. So, when your little one finally arrives, we are sure you will want to have all the essentials ready and waiting for them. And our Birth Bag set is the perfect way to guarantee that.
With everything from babygrow for your mini to maternity knickers for yourself, our Birth Bag comes packed with all your labour and post-baby necessities, making sure your birthing process and hospital stay goes as smoothly as possible.
It all comes in our multi-functional duffle bag which can be used for hospital stays and re-used post-pregnancy for overnight escapes, gym visits and just day-to-day motherhood use.
**Sliders, Sleepshirt and Scrunchie can be picked in any colour**
Content
> 1 x Hospital Bag - Multifunctional bag which includes special compartments for soiled baby clothes, nappies and a dry compartment for keeping nappies and other items clean for use - RRP £28
> Babygrow - Soft and comfortable pick for their first wardrobe - RRP £20
> 1 x Sleepshirt - Super soft organic jersey night shirt is something comfortable to birth in during your hospital stay. Button openings make it easy for skin on skin and breastfeeding - RRP £40
> 1 x M0THER Sliders - Waterproof footwear to add comfort to your steps - RRP £22.50
> 1 x Pair of Maternity Knickers - An essential for your pregnancy wardrobe  - RRP £10
> 1 x Heavy Duty Shower Cream - To cleanse and hydrate your skin with soothing calmness - RRP £10
> 1 x Velvet Ribbon Scrunchie - Whimsical accompaniment to your maternity hairstyles - RRP £2.50
Packaging
> Comes in M0THER branded duffle bag
> 46cm x 24cm x 20cm
Details - Duffle Bag
> Water resistant, increases its durability and functionality
> Separate compartment for wet/dirty items
> Side zip pocket and shoe compartment
> Back strap holder for trolley/ suitcase
> Detachable and adjustable shoulder strap
> Double grab handles
Fabric Care - Duffle Bag

> Machine Washable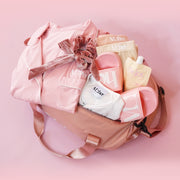 Birth Bag